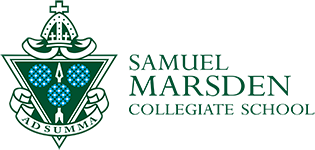 Current Artist in Residence
The Marsden Artist in Residence Programme
Samuel Marsden Collegiate School established an Artist in Residence Programme in 1999. The purpose of the residency is to have Visual Art students within the Department of Art and Design gain experience of the working process of practising artists through working alongside them for a period of time.
"It is always fabulous to have such high calibre artists engaging with our students in the Artist in Residence Programme. The indepth conversations, skills and the excitement that they bring to the classroom is invaluable" says teacher, Kaz Bartsch. "The girls are inspired and motivated to try new things and exhibit their work in public. They expand their thinking about Art in new directions and the possibilities of pursuing a Visual Arts based career become more of a possibility for them. It is always a very exciting time for all of us in the Art House."
The school offers for the duration of the residency, a stipend, studio workspace and contact with students both through classroom workshops and critiques, all of which will be negotiated with the successful applicant.
The length of the residency is five to six weeks. Specific dates may be negotiated, but generally fall within Term 1.
At the completion of the residency, an exhibition of work created will be held at an established art gallery in Wellington.
Applications are invited at the end of each year from artists working in or across any of the traditional mediums of Painting, Printmaking, Sculpture, Photography or Design. It is expected the person taking up the residency will be a practising artist who is emerging or established within New Zealand or Australia.
Applications should be made in writing together with a CV and exhibition record to employment@marsden.school.nz or in writing to:

The Principal
Samuel Marsden Collegiate School
Private Bag
Karori
Wellington.
Further information and enquiries can also be made to the Head of Visual Arts, Kathryn Cotter kathryn.cotter@marsden.school.nz (04) 476 8707 ext 892.